Good morning,
I hope you had a lovely break and are feeling all refreshed to tackle 2020.
The team at Elite are already into the full swing of things and excited about what this year will bring.  All indications are suggesting we will be entering into a very active property market with confidence from both buyers and sellers.  It appears investors are largely back into the market as the banks ease their lending restrictions to enable them to enter.  This is not great news for first home buyers as many are continually being priced out of the market.  We are expecting to see some solid property price rises in Melbourne and some regional areas throughout the year.
The first round of auctions for the year saw the clearance rate surge into the 80%, however, it must be noted that the amount of auctions were low.  We won't really understand where property prices are at until after the first four to six weeks of auctions have been completed.  That being said, there is a lot more confidence from buyers than there was this time last year.  As a comparison, the clearance rate this time last year was 55% on a similar amount of auctions.
Last year, prices ended on a high with the median house price jumping 5% in the last quarter of 2019 to $901,951.  Similar prices to the peak of the market in December 2017 and it is highly possible we could soon surpass this in the not too distant future.
Enjoy your week!
Kim Easterbrook and the team at Elite.
Clearance Rates
Melbourne | 10 February 2020
This week: 303 Auctions | Clearance: 81% | Last Year: 55% [source: REIV]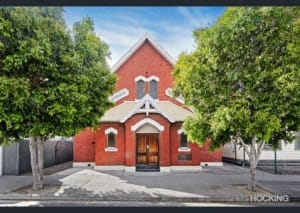 80 Ross Street, Port Melbourne 
It is extremely rare for a church to pop up for sale, especially one that is a blank canvas ripe for a substantial makeover.  These properties are always hard to value as there are effectively no comparable sales.  The property was quoted at $1.85m to $1.95m before auction and attracted bidding from two parties with the successful bidder being a family who is going to create their dream home.  The property sold for $2.19m after being announced on the market at $2.18m.
The property last sold in 2017 for $4.75m but was then on 711 sqm.  The church has been subdivided and currently sitting on land size of 349 sqm.  The vendor is planning on building townhouses on the remaining land.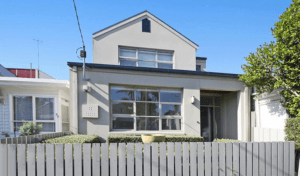 FOR LEASE  
59 Bayview Street, Prahran
$1,100 per week
This architecturally designed three bedroom, two bathroom townhouse is up for lease from our Elite Property Rentals team and available early March.  Very conveniently located within a short walk to the trams on High St in a quiet side street.   Spacious floor plan, open planing living/dining/kitchen area onto a north facing courtyard.  You will need to be quick for this one as this won't be available for long.   Please contact the office on 9592 1122 to arrange an inspection.
Refer A Friend and Receive a $200 Voucher to Stokehouse.
Refer a friend to our Buyer Advocacy or Property Management services and enjoy a $200* voucher to Stokehouse Restaurant for a relaxing lunch or dinner by the Bay in St Kilda.
Please contact our team on 9592 1122 or email admin@elitebuyeragents.com.au
* Offer applies to a referral that leads to the engagement of our services.