The interest rate cut has spurred a greater interest at auctions over the weekend, and the resulting clearance rate of 81 per cent highlights a demand for Melbourne property. There were 904 auctions this weekend, with 732 properties selling and 172 being passed in, 78 of those on a vendor bid. There were an additional 426 private sales reported.
Tuesday's record low 0.25 per cent interest rate cut may have influenced the large buyer presence at auctions this weekend; just as it did in February when official interest rates fell by 0.25 per cent. Buyers were prepared to stretch their budget a little bit further, and bid harder at auction on Saturday.
The other factor that has influenced results is the relatively low stock levels currently available. The cooler months are typically more quiet across Melbourne's real estate market, and no doubt many buyers have this in mind when they are bidding, as they don't want to miss out.
The highest residential sale result on the weekend was for a four bedroom house at 40 Anderson Road, Hawthorn East, which sold for $4.82M. While a three bedroom property at 8/57 Orrong Crescent in Caulfield North, which sold for $1,950,000, became the highest price paid for an apartment this weekend.
This week, Credit Suisse estimated that Chinese investors are expected to spend $60 billion on Australian Housing over the next 6 years, with the majority of that concentrated on Sydney and Melbourne. Currently in Melbourne, Chinese demand is running at 20 per cent of new housing supply. It's important to remember that this foreign investment is concentrated on brand new houses in estates, and brand new inner-city apartments – not established homes.
Next week there is an estimated 790 properties due to be auctioned.
Auction Results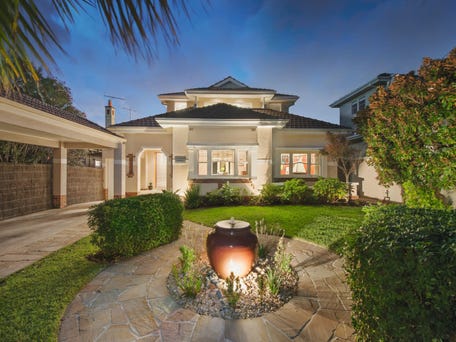 15 Bridge Street, Hampton. Sold for $3,100,000
Over 60 people squeezed into the front yard of this five bedroom, three bathroom, magnificently updated 1920s build. A slow start to what was to be a hotly contested auction kicked off with a bid at $2.1M which was immediately beaten by a more realistic vendor bid of $2.5M. The first bidder did not raise his hand again, instead leaving it to two others to fight it out with $50K rises until it hit $2.85M. At that point one of the two raised the stakes offering a $3M bid, not to be outdone, the other interested party bounced straight back with another $100K ($3.1M) to win the auction.

636-638 Park Street, Carlton North. Sold for $1,730,000
Only 50 metres from Princes Park, and was quoted between $1.3M and $1.4M, this grand Victorian Terrace attracted a crowd of 45 onlookers for the auction on Saturday. The potential for improvement in this four bedroom, three bathroom home motivated five bidders to put their hands up after the opening offer from one man of $1.2M. The property was announced on the market at $1.5M, and eventually sold to a late entrant for $1.73M, which was $380,000 above the reserve.

22 Dunraven Avenue, Toorak. Passed in at auction.
This beautiful 1956 built solid brick home in an ideal blue-chip Toorak locale, with four bedrooms and a pool was the scene of a challenging auction. Despite the updating and renovating that went into this home, the first thing the auctioneer brought to the attention of the 50+ people in attendance, was the fact that yes, it could indeed be demolished and a new home built – as has been done by the neighbours on either side of the property. The auction struggled to find a starting point, so a vendor bid of $4.25M began the official proceedings. With nobody wanting to make a move, the property was eventually passed in and negotiations with at least 3 interested parties took place behind closed doors.